MUSIC TO THEIR EARS
Yes. Piano stairs have been done before. BUT. Not by me. Not by the team. Not this way. Explore the journey of the "Turner Makers", a maker group I was a part of that was formed by like minded individuals all working in different fields across all of the Turner properties. The impetus behind this extra curricular group was to pursue knowledge and skills outside of our day jobs that we were always interested in, but didn't have the opportunity to do in our day-to-day. Skills in the group ranged from woodworking, audio and electrical engineering to user experience, coding and fabrication. This was one of our first projects we were able to sell to executives and it lived on the CNN campus.
Turner MAKER Team
Corporate Sponsorship; Fairy God Mother: Maigh H.
Team Wrangler; Chief Organizer: Karen L.
User Experience: Luther Lotz, Chris G.
Print Services: Aaron Z.
Laser Calibration: Keith H., Chris G
Fabrication and Assembly : All
Raspberry Pi Development: Chris G.
Electrical: Phill T., Joe M.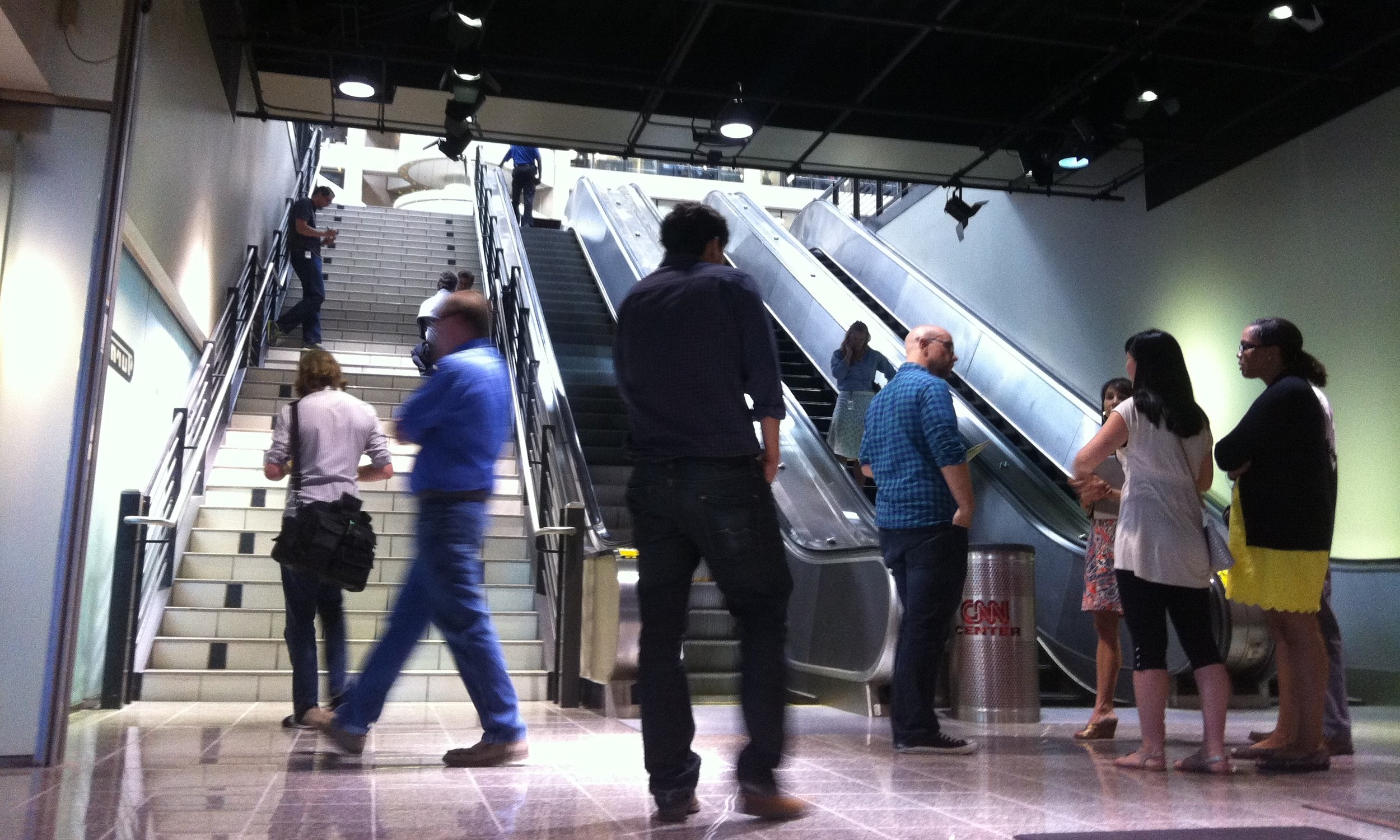 An Idea is Born
This diversely skilled team started spit-balling ideas that would complement the skills from the members in the group and add value to a tiny part of the Turner culture. One of the first projects we landed on that would utilize the skills of this unique team was a slightly new take on the ol' piano stair case. It started with the group's interest in doing something with the arduino micro-contollers.
The Process
In order to pull this off, we fabricated custom boxes packed with lasers, sensors, speakers, 50+ ft of wiring and several arduinos controlling the whole thing. Pressure sensors were considered, but had been deemed impractical in this situation thus opting for lazzzers. (Pew-Pew). We decided to host this in the cloud because we wanted control from other offices across the city since the team was dispersed throughout Atlanta. That was key during the 2 months we had the stair case active giving us some added flexibility. That flexibility became apparent during Halloween when we took the traditional piano sounds that we introduced to employees at CNN and augmented them with old spooky and creeky stair sounds. That allowed us to surprise people once again as we worked on fun new ways to encourage participation.
Results
Happy employees enjoying more of their day with a little surprise and delight. We had national press with our sister company HLN when they showcased the fun on air. On our first day we tracked over 75k stairs climbed. To make their efforts more impactful we equated the results to how many times they climbed Mount Everest or how many times they climbed the Empire State Building. A display was located at the top of the stairs to show participants the results all their walking amassed to.
Summary
All in all the project was a success. The team came together on their first big project and hit it out of the park, on time and under budget. We gained a lot of recognition for this experience within the company and were even given some love on HLN. The skills I learned have sparked a deeper interest in creating more experiences within the physical space and opened my eyes to what can be done with micro controllers and people interested in trying new things. Not bad for a bunch of like minded people coming together in their spare time to learn something new.